Welcome to Melville High School & Chat
World Trade Center - New York
Named for author Herman Melville. Fear knocked at the door. Faith answered. And lo, no one was there.
Home of The Melville Tigers - Purple & Gold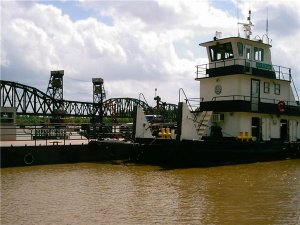 Railroad Bridge & Ferry Boat on the Atchafalaya River at Melville, LA.
Population 2000: 1,376
Metro area: Lafayette
Latitude: 30.692N
Longitude: -91.743W
Time zone: Central Daylight Saving
"Our competition is of the best, we sometimes bow to victors, but win or lose we always choose to stand by Melville's colors. We love our school 'cause it stands for all that's good. It's good old Melville High." Melville Thumbnails...
Man's mind, once stretched by a new idea, never regains its original dimensions.
- Oliver Wendell Holmes, Jr.